The International Passive House Association

A global network for Passive House knowledge working to promote the Passive House Standard worldwide (see Mission and values)

Aiming high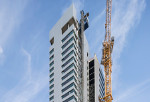 When it was inaugurated four years ago, the Raiffeisen Tower in Vienna was the first high-rise building in the world built to the Passive House Standard. Four years later, great progress has been made. This summer, in New York, around 350 students will move into a 26-storey dormitory, being built to the Passive House Standard. The structure of the 88 metre tall Passive House building "Bolueta" in Bilbao, Spain, will be completed within a few weeks. The architects of both these buildings will attend the 21st International Passive House Conference in April in Vienna to report on their exciting projects. Press Release
____________________________________________________________________________
Vienna presents energy efficient construction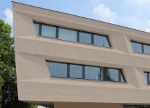 'Passive House for all' is the theme for the 21st International Passive House Conference in Vienna. It's all about energy efficient construction now and in the future. Vienna has committed itself to the Passive House Standard for many years, whether for kindergartens, student dorms, apartment buildings or offices. The comprehensive conference programme will be rounded off with numerous workshops, a builder's forum and excursions via bus and underground. The Passive House Conference with the accompanying exhibition takes place on 28 and 29 April 2017 at the Messe Wien Congress Center. Press Release
____________________________________________________________________________
iPHA will be at BAU 2017


The International Passive House Association and the Passive House Institute will be at BAU 2017 from January 16-21 in Munich. Come and meet us at stand 120 in Hall A1 to learn more about Passive House and our work. If you are a German speaker, the Passive House Institute and IG Passivhaus Deutschland are running a Passive House Forum with Dr. Wolfgang Feist where you can find out about the latest developments in energy efficient construction.
BAU 2017 | Forum Programme (German)
---
Pioneer project upgraded to Passive House Plus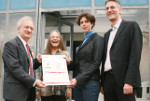 The world's first Passive House building has increased its already high energy efficiency level and now relies on renewable energy. About a year ago, a photovoltaic system was installed on the roof of a row house built in 1991 in Darmstadt. Since then, this pioneering Passive House project has been producing its own electricity, thus fulfilling the criteria of a Passive House Plus building. The official certificate was recently issued in Darmstadt.
Press Release
---
Step-by-step towards EnerPHit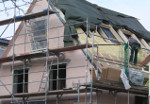 Many home and building owners carry out renovations in a step-by-step manner. To avoid unnecessary additional costs, all planned measures for energy retrofits should be coordinated with each other before the first step is implemented. For this advanced planning, the EnerPHit Retrofit Plan has recently been developed by the Passive House Institute.
Press Release


---
Operation Passive House Clinic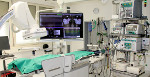 Rubber boots and spades stood ready for a special premiere: Work has started on the world's first Passive House hospital in the Höchst district of Frankfurt. The previous clinic will be replaced by a new Passive House building with ten operating theatres and 666 beds planned over six floors. The Passive House Institute provided comprehensive support in the planning phase and will continue to do so during the building's construction.
---
From kindergartens to retirement homes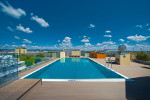 The Passive House Institute is looking forward to Vienna where the 21st International Passive House Conference will be taking place next year. The date and venue for the Conference have now been confirmed: experts in energy efficient construction will convene at the Messe Wien Congress Centre on the 28th and 29th April 2017. The theme for the 21st Conference will be "Passive House for everyone". The Call for Papers has begun.
---
Vienna welcomes Passive House experts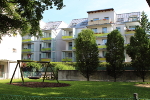 It's been decided: next year's 21st International Passive House Conference will take place in Vienna. The news was announced today by the Passive House Institute in Darmstadt. "We are very much looking forward to Vienna. Not only the beautiful city, but of course Vienna's commitment to Passive House," explains Director Dr. Wolfgang Feist. The International Passive House Conference is the meeting place for experts from around the world on energy efficient construction.
---
Passive House Institute joins NAPHN in New York for annual conference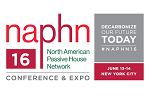 New York has become a hotspot for Passive House. And the city now wants to make their buildings among the most efficient in the country. This is the backdrop against which the North American Passive House Network is hosting their conference on decarbonizing the built environment. The Passive House Institute and the International Passive House Association (iPHA) join the conference in New York City as partners.
---
Sustainable solutions for new builds and retrofits

Passive House Conference back in Darmstadt for anniversary of building standard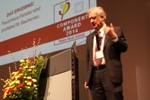 The Passive House Standard combines maximum efficiency with optimal comfort. How this works, was demonstrated by experts from all over the world on 22 and 23 April during the International Passive House Conference in Darmstadt. This event also marked an anniversary: 25 years ago, the world's first Passive House building was built just a few kilometres away from the congress centre.
Press Release | Conference in Review
---
Passive House Institute launches e-learning program

New online modules form an ideal basis for experts' workshops and seminars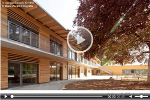 Darmstadt. With a tablet at home or with a smartphone during the daily commute – a new e-learning program is making basic Passive House training more comfortable than ever before. The video-based modules, now available online, are equally suitable as an introduction for laypersons and as preparatory material for courses aimed at certification as a Passive House Designer or Consultant. Press Release
---
Component Award for exemplary ventilation concepts

Winners to be presented at International Passive House Conference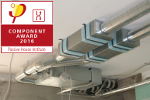 The winners of the Component Award 2016 for ventilation solutions in residential buildings have been selected. The first prize went to a concept by the Austrian manufacturer Pichler, a joint second prize to Vaventis and Michael Tribus Architecture. The Award presentation took place at the International Passive House Conference. Press Release
---
Designing sustainable buildings made fun

English version of PHPP 9 now available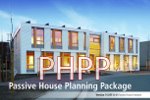 The tried and tested PHPP tool for designing energy efficient buildings is available in a brand-new version. This upgrade not only allows reliable calculation of the energy demand in accordance with internationally applicable criteria, it also takes into account energy generation on or near the building. Press Release
---
Architecture book presents "Passive House Award" winners

Documentation of the competition also available as a travelling exhibition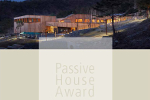 A new book showcasing the winners and finalists of the international Passive House Award shows that energy efficient construction is not only profitable, it is also an enrichment for architecture. The book is available in a bound version and in digital form as an online flipbook. In addition, all of the award-winning buildings are presented in a poster exhibition.
---
Active for more comfort: Passive House
New edition now available!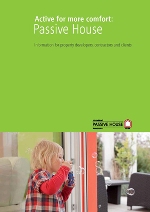 With worldwide distribution, Active for more comfort: Passive House, is a classic work presented in the lobbies of countless Passive House professionals. Nowmore international than ever, this edition includes clear explanations of Passive House basics along with brand new material on topics such as:
energy retrofitting
non-residential Passive House Buildings
Passive House in warm climates
the use of renewables
A new chapter now also documents the winners of the 2014 Passive House Award!
Download your copy or browse through the brochure online
---
Passive House videos:
Passive House Explained in 90 seconds, by Hans-Jörg Eich
Passive Passion, documentary by Charlie Hoxie