iPHA Webinars

The iPHA Webinars are 60-120 minutes in length and are online conferences during which viewers can interact with the speakers, asking questions or discussing the webinar's topics among themselves in the chat section.
Such events are a member-only benefit held via Webinarjam. Members receive an email from iPHA with the registration link and can sign up to take part in one of the two sessions offered.
Each webinar is offered twice (usually on the same day) to make it accessible to members across different time zones. Participants receive 2 further education credit points for each webinar they take part in. After the event, participants receive a link to re-watch the webinar if they so choose.

Webinars also have a ticketing system so that non-iPHA members can purchase access
to a webinar event that is of interest to them (30 euros).
Not a member yet? Sign up here and become a member and take advantage of the many benefits iPHA provides.
iPHA Webinars schedule | 2nd half of 2022 (coming soon)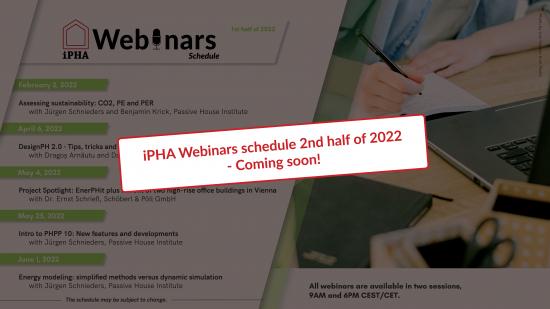 Click on the image to enlarge and download the iPHA Webinars schedule.
Upcoming webinar | Wednesday, July 6

"Project Spotlight: Verdi school in Collecchio, Parma, Italy - a successful EnerPHit project"
with Marco Filippi, Energy Plus Project


Verdi school in Collecchio, near Parma, is a 30 classrooms building erected between the 1960s and 1980s. It was refurbished and reached the EnerPHit standard - a very challenging yet successful project for architect Raffaele Ghillani who had to deal with many details and thermal nodes.

Session 1: 6pm Frankfurt | 5pm London | 12pm New York | 9am San Francisco
Registration can be done following this link