International Passive House Open Days: Online and interactive!

Are you enthusiastic about the Passive House concept and its advantages? Then take part in the Open Days and motivate others to join the movement by sharing your knowledge and experiences!
After the success of the first digital International Passive House Open Days in June, and due to the continuing COVID19 restrictions around the world, we have decided to make the November International Passive House Open Days from November 6-8 a digital event as well.
Find an event or tour
Participating Passive House buildings are published with viewing and/or event information on our Passive House Database.
Moreover, you can visit the #iPHopendays YouTube playlist on our channel to discover lots of video tours!
The participating projects are also included on our world map! All the new participating buildings are marked in yellow, whereas the buildings that took part also to previous editions are marked in blue.
Click on the map below to find out about the participating Passive House projects near you!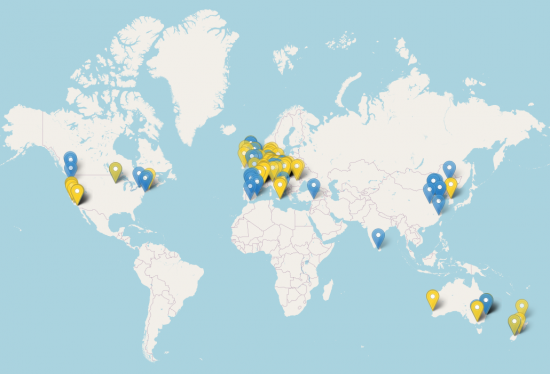 Have a look at the live events schedule!
In order to find out more and register to the events, you can click on the schedule and you will be directed to our calendar.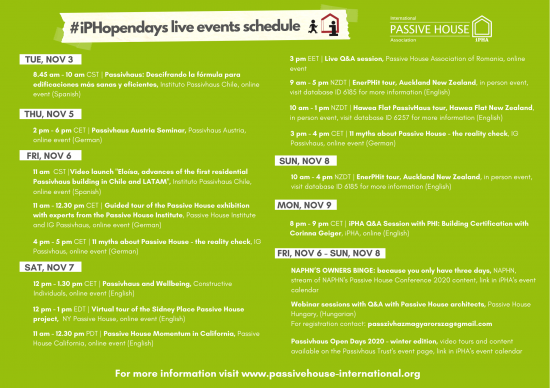 While videos and digital events are not a substitute for the real thing, they are the next best thing and we can't wait to see all the videos you send in!

International Passive House Open Days Media Pack

We have put together a media kit so you can tell your friends that you're taking part in the Open Days. Simply add a picture of your Passive House building, your logo (if applicable), the Passive House building database number, a description of your event or where to find your video tour and post to social media!
Plan on taking part in the International Passive House Open Days? Share your experience on Twitter, Facebook, or Instagram with the hashtag #iPHopendays