Certified Passive House Designer & Consultant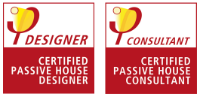 Some 3,000 professionals around the world have already earned the internationally recognised Certified Passive House Designer and Consultant designations. These certifications are offered by the Passive House Institute and there are two ways to acquire them:
• Pass the written exam issued by the Passive House Institute and offered by a number of authorised examination bodies worldwide.
• Submit a project documentation properly detailing the construction of a Certified Passive House Building planned by the applicant.
Designer VS Consultant?
The difference between a certified Passive House Designer and a Passive House Consultant lies in their professional background. Certified Passive House Designers come from fields highly relevant to architecture and building and their prior knowledge must be somehow proven by their degree etc, in order to get the Designer label. On the other hand, persons coming from different fields may acquire the Certified Passive House Consultant certification. Click here for a list of typical professions for both Certified Passive House Designers and Consultants.